Retrochart August 1995 - Blur Vs Oasis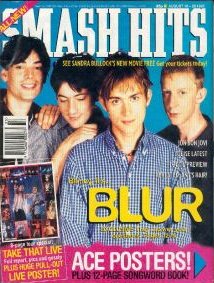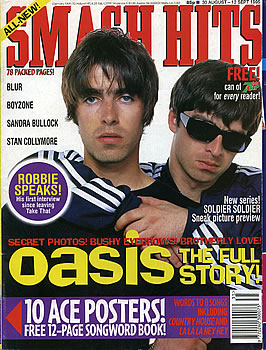 Can you believe that 1995 was 20 years ago? Obviously it is but it really doesn't feel like it.
I remember the summer of 1995 being a pretty damn good one! I went to the Hacienda and Benidorm that summer - something that would never happen again after thay year for obvious reasons
My bank that then were also throwing all sorts of benefits for students, the one I used the most were the heavily discounted Cinema tickets at the Cannon Cinema in Salford. 
 Remember this place?
Looking at the top movies of the time however,  I don't think I was enjoying myself much - it's fair to say that this year wasn't a classic when it came to cinema!
1 Waterworld
2 Batman Forever
3 Casper
4 Free Willy 2 
5 Judge Dredd
6 Mighty Morphin Power Rangers The Movie
7 The Englishman Who Went Up A Hill But Came Down A Mountain
8 Bad Boys
[image:275:]
The best film of the Summer by a long way was Bad Boys, who would have though that Michael Bay would go on to make such awful trash? 
In the news, only one event seemed to have happened around this time - the launch of WINDOWS 95! 
[image:272:]
Start button, I love you :D
The Uk top 40 this week got more publucity than ever. Brit Pop bands Blur and Oasis decided to release their singles on the same day and the press milked it to death making it a battle between the North and the South (it really wasn't!)
In the end, Blur won. It was worth it just to see the smug smiles wiped off Liam and Noel!
1 Blur Country House
2 Oasis Roll With It
3 The Original I Luv U Baby
4 Take That Never Forget
5 TLC Waterfalls
6 Clock Everybody
7 Seal Kiss From A Rose / I'm Alive
8 JX Son Of A Gun
9 Michael Jackson You Are Not Alone
10 Corona Try Me Out
11 Michelle Gayle Happy Just To Be With You
12 Madonna Human Nature
13 Diana King Shy Guy
14 Berri The Sunshine After The Rain
15 Deuce On The Bible
16 The Rembrandts I'll Be There For You
17 Xpansions 95 Move Your Body
18 The Charlatans Just When You're Thinkin' Things Over
19 The Outhere Brothers Boom Boom Boom
20 The Real McCoy Come And Get Your Love
21 Suggs I'm Only Sleeping / Off On Holiday
22 The Connells 74-'75
23 De'Lacy Hideaway
24 Boyzone So Good
25 Supergrass Alright / Time
26 Alanis Morissette You Oughta Know
27 Ali Campbell Let Your Yeah Be Yeah
28 Echobelly Great Things
29 Scatman John Scatman's World
30 U2 Hold Me, Thrill Me, Kiss Me, Kill Me
31 Felix Don't You Want Me
32 Montell Jordan Somethin' 4 Da Honeyz
33 The Shamen Destination Eschaton
34 Bjork Isobel
35 The Levellers Hope Street
36 Radiohead Just
37 Eusebe Summertime Healing
38 ADAM featuring Amy Zombie
39 Edwyn Collins A Girl Like You
40 Happy Clappers Hold On
So many great tracks in this week's chart, it really was a fantastic year for Dance and House remixes. My favourite being number 9 - an instant Michael Jackson classic
Number 16 was the theme to the best TV comedy show show of that year, decade and all time
And finally, number five was one the greatest pop songs of the 90s - absolutely timeless!
All in all it was a pretty fantastic time!