Peter Hook And The Light - Live At Christ Church
Peter Hook And The Light -  Live At Christ Church Macclesfield 23rd June 2013 Review By Mick Aneworderfan
Having released two live albums of Joy Division's Unknown Pleasures last year, and the album of the concert of New Order's Movement and Power, Corruption & Lies earlier this year, Peter Hook returns to Joy Division for an extraordinary performance of both Unknown Pleasures and Closer recorded in Macclesfield, home town of Joy Division's legendary leader, Ian Curtis.
The audience is very warm and clearly enjoys Hooky's performance with his band The Light, from the opening Dead Souls it's apparent their personal yet respectful take of these classics works well. Andy Poole's keyboard embraces Nat Wason's abrasive guitar over Paul Kehoe's powerful drums, matched by the rhythm bass of Peter's son Jack. Hooky's voice is as close as you get to Ian's energy.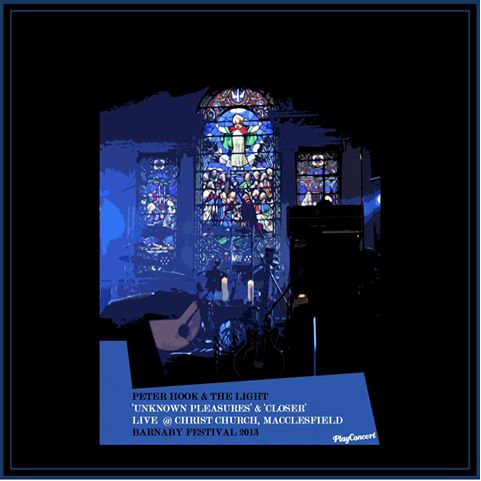 When New Order play those few Joy Division classics, they sound like New Order doing Joy Division. The Light's performance is emotional because it's much closer to what Joy Division actually sounded like though always leaving space to each member's interpretation. The following Digital and Disorder are rough enough to sound like Joy Division when they used to play these songs as they intended before Martin Hannett's work in the studio.
One of the most amazing tracks is the dark and powerful rendition of I Remember Nothing, almost eight minutes long. Then it's great to finally hear Closer's songs live after so many years. Twenty Four Hours, for example, has always been one of my favourite Joy Division tracks, its bass is probably the best in the whole of music history. The Eternal and Decades are two other dark and emotional masterpieces. Can they be played live after more than 30 years? Hooky can and does it with as much passion as possible, and the people can feel it. The ending of Decades especially is amazing, with the guitar and the melodica enhancing it. These songs need no introduction. There's no obscure B side or forgotten album track, anyone acquainted with Joy Division will know them and their importance, they're all classics (the album is closed by a killer sequence of Atmosphere ,Ceremony, Transmission and Love Will Tear Us Apart), so the only questions are if it still makes sense playing them and if Hooky still can take this responsibility with pride. And the answer to both is a fireproof "YES"! It would have been nice to hear songs like the early Warsaw (which is on last year's Unknown Pleasures live album anyway), Novelty or the forgotten punk gem You're No Good For Me, but I guess we have to be content with a concert of 25 tracks, hoping Hooky will dust off the most obscure ones in the future, like the underrated masterpiece At A Later Date. The good news is David Potts, his former singer and guitarist band mate inMonaco, has joined The Light, so the possibilities for this band are now virtually endless.
This and the other live albums by Peter Hook and The Light can be purchased at http://music.playconcert.com/