Hypnagogic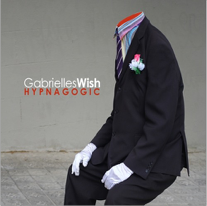 Reviewed By Ewan Saum

 
After going through difficult times and several changes in the band lineup, the latest offering from Gabrielles Wish "Hypnagogic" shows a return to form from the band. Extremely well written lyrics and complex melodies make "Hypnagogic" one of the best albums by Gabrielles Wish to date. The album will appeal to both new and old fans alike, it has darker strong guitar led-tracks (reminiscent of some of the tracks from "Portal", released in 2003), which will appeal to the hard-core Gabrielles Wish fans, and it has more accessible upbeat tracks for new fans. 
THE NOISE OF ENGLAND, the opening track, is very much in my opinion "The Noise of Manchester." An excellent dark instrumental with heavy guitars, akin to The Fall, Joy Divison and James (during their experimental "Wah Wah" period). 10/10
DIGITAL STALKER is classic Gabrielles Wish. If you are good at what you do, why deviate from it? Strong guitar from Steven Bunn, great vocals from Rob Corless (reminiscent of Mark E Smith from the Fall), with Eastern undertones. "Freedom is just a word" 10/10
INDISPOSABLE HAPPINESS is a poppier sounding track but with lyrics that are definitely not pop, and more challenging, with a lot of religious connotations. Robert Corless sings "God loves a fool, Christ knows I'm a fool" witty lyrics comparable to those of Frank Zappa. 8/10
 CELEBRITY PIGSTY is a very dark avant-garde track, similar to the work of Peter Christopherson (from Coil, Psychic TV and Throbbing Gristle), with a dig at the status of untalented reality-show celebrities being at the forefront of media in today's society . 8/10
WANDERING THE STREETS. After the dark offering of "Celebrity Pigsty" comes "Wandering The Streets." This is a great pop tune, with great vocals from Robert Corless, and excellent heavy drums. No wonder this track was released as a single! 10/10
WAR UPON YOURSELF, starts with an Eastern-feel to it (akin to The Cure's "Snakepit") and never strays from it, but also maintains a Gabrielles Wish sound to the track, thus making it their own. A truly original track. "Right on the money." 9/10
DESTINY IS APPARENT. This track is a mish-mash of traditional Gabrielles Wish melodies with glam rock. Love the saxophone on this! 9/10
SEVEN FOLD. This track is very similar to The Fall. The drumming 2:20 min into this track is excellent, as is the bass guitar throughout the track. 8/10
HIT THE ROAD. The music in this track reminds me very much of The Cure during their "Pornography" period, but again Gabrielles Wish add their own stamp on the track and make it their own. The vocals on this track are almost Floydesque! 8/10
STAND TOGETHER. The most accessible track on the album. An excellent pop track, well deserving of it's single release. Great complex guitar melodies, great vocals, and a really well produced track....LOVE IT!!! 10/10
ROUND AND ROUND (SQUARING THE CIRCLE). This track reminds me of Gabrielles Wish's albums "Reformer" and "Circa". I like the retro 80s/90s synth-feel to this song. 8/10
WASTED. Superb bass guitar on this track from Darren Moran. This is one of the weaker tracks on the album, however, it is still a good one! 7/10
ALPHABET FIVE ONE TWELVE. An epic track, with slightly gothic undertones, and romantic lyrics from Robert Corless. "Always be there for you, she is my true love, look in your heart now." 9/10
 QUADRA is an excellent track, and an fitting finale to the album. Gorgeous melodies, superb use of the flute, which further enhances the track. Both stunning and beautiful, and nice female backing vocals too! 10/10
I thoroughly recommend checking out this album, if you haven't done so already, and purchase a copy to keep supporting our talented local bands. Long live Gabrielles Wish, may they continue for many years to come!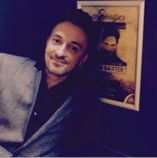 Ewan Saum INDUSTRY BIO.

 
Ewan Saum has spent nearly 10 years in the music industry, as both a band manager and a gig promoter; having raised money for cancer charities inc. "Gig 4 Life" and "Versus Cancer", and helped out with music festivals. 
Ewan started out as a Music Supervisor in the Film Industry, due to his knowledge of the current music scene, and of bands across the world. He has won 3 awards, from the radio station "Radio Gets Wild," for "Best Soundtrack," and was nominated for the award of "Best Soundtrack" at the prestigious East End Film Festival in 2014.